In partnership with DEVLEARN, EdCast is proud to present the 4th annual Future-Ready Workforce Summit at The Mirage hotel and resort in Las Vegas, Nevada.  
The event will take place for one day only on October 23, 2018. The Summit will be co-located at DEVLEARN, a conference rooted in learning and technology. If attendees wish to participate in DEVLEARN's events, they will have to register separately as the Future-Ready Workforce Summit is its own event.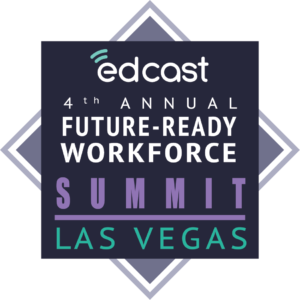 It's no secret that the workforce has changed exponentially in recent years.  From revolutionary breakthroughs in digital technology to the evolution of required skills, the business world is quickly becoming a totally different ball game.  For senior leaders and veterans of the trade, the task of keeping up and adapting to these constant changes can be a bit of an overwhelming challenge. The Future-Ready Workforce Summit strives to bring professionals up-to-speed on technology and tactics.  In its typical style, EdCast will showcase real-world lessons from active business professionals whose strategies and techniques have been proven to succeed in today's economy.
The Summit will feature lessons from visionaries in the business world such as:
Kevin Oakes (Chief Executive Officer of i4cp)

Edward Bell (Director of Digital Learning Technology at Dell)

Patty Robertson (Chief Knowledge Officer at EdCast)

Jeanne Meister (Founding Partner of futureworkplace)

Mimi William (Global Curriculum Design Director at MARS)  
The keynote speakers will discuss innovative advancements in:
AI/Machine Learning

Upskilling/Reskilling

In-App Training

Microlearning

Blended Learning
Formerly the VP of Sales and Cloud Services at EdCast, Daniel McKelvey is a strong supporter of the accessibility of EdCast lessons.  He truly believes in the benefits and advantages found in pursuing EdCast's unique learning opportunities. The platform's hundreds of on-going courses and seminars thrive in the technology age, offering professionals and young hopefuls the ability to learn about a wide variety of topics wherever, whenever.  The balance of in-person and online lesson counterparts offer a truly personalized learning experience.