With an interest in
solar energy technology,
Daniel McKelvey
has paid close attention to the latest insights, research and breakthroughs within the industry.
One of the more talked about breakthrough ideas from the solar industry recently is the solar paneled road, or, to keep it short and simple, the solar road. The idea itself is self-explanatory. Imagine instead of a normal road made from asphalt and concrete, it's a road filled with either solar absorbing cells or covered with solar panels themselves.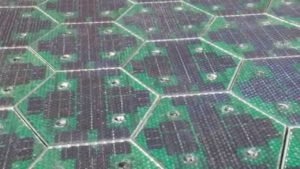 With energy stored from absorbing sunlight all day these roadways can power surrounding:
Street lights

Stop lights

Electric cars

Whole Neighborhoods
How Much Can You Save With Solar Energy?
As a professional in education, Daniel McKelvey is passionate about encouraging individuals to learn more about these new technologies and the ways they can benefit not only themselves but also the community and the world as a whole.
Today, anyone can tell how much money they save using solar panels on their house by simply searching their address on Google's own Project SunRoof. So just imagine how much money a whole country could save if all of its roads were made out of self-sustaining solar absorbers. What's even better is that it's clean energy, guilt free, carbon free, and best of all just plain free.
But Wait, the Innovations Are Just Beginning
There's this couple in Idaho, Scott and Julie Brusaw, who founded a company called Solar Roadways. Their idea was simple, solar roads with some extra benefits. They came up with a glass hexagon tile-based design that also includes LED lights that can receive signals through a wireless connection which also comes with its own heating element as a result of the nature of the lights. With these lights they could light up roadways with signals and messages, and they wanted them to be pressure sensitive to warn drivers of oncoming obstacles. With heating, drivers won't have to worry about snow as it would just melt on contact. They have been one of the more popular faces of the solar road movement with a youtube video that has reached over twenty-two million views, but that's not to say their ideas are without obstacles.
All Roads Have Bumps and Potholes Even if They're made of Glass and Solar Panels
Late last year, China had opened the world's first Solar Highway. Then they had to temporarily close it just after a few days. According to the South China Morning Post, the closing was due to falling items from passing vehicles damaging a panel enough to rip it from its place and shatter along the road.
And going back to Mr. and Mrs. Brusaw, they also faced their fair share of problems. With a public test of thirty panels on a sidewalk in their hometown of Sandpoint, Idaho, they faced problems with their own LED lights not being visible in the sunlight, to overheating, to not working after consistent tampering from the public.
The Road to the Future Still Needs to Be Built
Okay, so Solar Roads haven't exactly panned out yet, nor that it seems like it's going to happen anytime soon. Despite the naysayers, people are still doing their best to make them a reality though. Daniel McKelvey is optimistic that the solar industry is only just getting started.
China for one is still putting stock into making their Solar Highway into an Intelligent Highway with grand ideas of self-driving solar powered cars and the Brusaws certainly haven't given up yet. Plus, what's science without some trial and error?